Rural teacher wins high acclaim
Few teachers are as devoted to their profession as 55-year-old Zhi Yueying, who has spent the best part of four decades educating children in remote villages in Jiangxi province.
On Feb 8, she was honored for her contribution to society at the China Central Television's annual "Touching China" awards.
Standing on stage with her trademark long braid and pink cheeks, she played down the 36 years she has spent teaching, describing herself as "just an ordinary person doing ordinary things".
Zhi began teaching at age 19 at a primary school in her home county of Jinxian in Jiangxi.
A little while later, she received a letter from her old classmate Cai Jiangning, informing her of a new school in Niyang village, Zaoxia township, where he was working.
The village, deep in the mountains of Fengxin county at an altitude of about 1,000 meters, is 45 km from the nearest town.
Zhi had feelings for Cai, so she applied for a position at the school, passing the entrance exam with the second highest score. The school was more than 200 km away and her family did not want her to go, but Zhi had made up her mind.
To get to Niyang, she had to walk along rugged mountain trails for more than 2 hours after a two-hour bus ride from the nearest town.
Unlike her former school in Jinxian, her new place of work in Niyang lacked all but the most basic teaching resources. The village was short of food, so Zhi grew vegetables in her own plot of land and because there were no roads, she and her colleagues had to carry their textbooks, chalk and other supplies into the mountains on their backs.
"Children in the mountains have no idea about the outside world, so knowledge is their only hope of leaving," she said.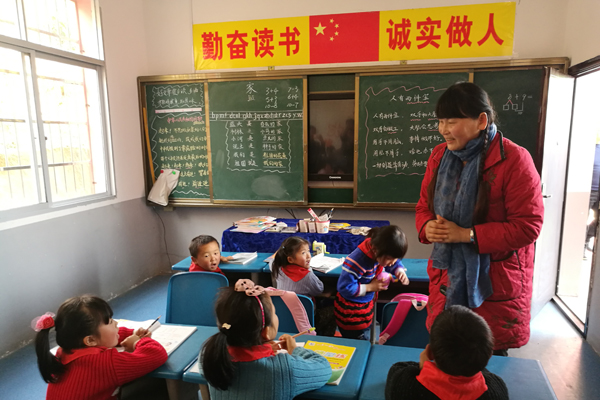 Zhi's care for her students was not limited to the classroom. When she noticed that some girls had stopped attending school, she visited their families' homes and convinced the parents of the importance of education. She also helped poorer parents pay for tuition fees, even though she could barely make ends meet herself.
She married Cai in 1982, but a new assignment meant she had to leave him that same year to work at a new school 50 km further in the mountains.
Alone, Zhi devoted her time to her new post and was quickly promoted to headmaster. She taught Chinese, mathematics and arts, brought in teaching equipment from far away and drove around on her motorcycle to promote the school.
At the age of 50, she even taught herself how to use a computer, so that she could download teaching materials to help her students "learn about the outside world".
Her dedication earned her the community's respect. Women in the surrounding villages would cook for her and take turns to keep her company at the school.
The constant pressure and long working hours started to take a toll on Zhi's health, however.
In 2003, she was diagnosed with gallstones and three years later, her untreated high blood pressure began to affect her eyesight. Yet her priority was always her students and each time she was discharged from hospital, she got straight back to work.
Zhi's latest move came in 2012, when she was invited to teach in Baiyang, one of the most remote villages in Fengxin county.
Her family opposed the move, concerned about her health and advancing years, but she won their approval after insisting that she could not abandon the children and "leave them unable to learn".
That summer, Zhi and her husband toiled for months, alongside other workers, to build a brand-new classroom for the school in Baiyang. She still teaches there to this day.
Zhi said she is happiest when she sees her students succeed, though she regrets not having spent more time with her own family over the years, especially her two daughters.
Despite this, she is proud of the work she has done.
"Children in the mountains are my children too," she said. "I am the daughter of the mountains and I will not stop teaching, so long as my health allows."
By Wang Jian and Guo Xiaojun | China Daily