Cheng Wei (程维, born 19 May 1983) is the founder of Didi Chuxing ("DiDi", formerly known as Didi Kuaidi), China's largest comprehensive one-stop mobile transportation platform. In 2012, after 8 years at Alibaba Group's regional and Alipay's operations, at age 29 Wei founded Beijing Orange Technology Co Ltd. in Zhongguancun, known as China's Silicon Valley, and soon launched Didi Dache, a taxi-hailing app. n August 2016, Didi Chuxing acquired the Chinese division of Uber.
Wei was born in 1983 in Shangrao, a city located in the southeastern province of Jiangxi. He received a bachelor's degree in administration from Beijing University of Chemical Technology.
After graduation, Wei served as an assistant to a chairman at a foot massage company.He soon found that the job was not quite what he had expected, and, about one year later, applied to join Alibaba as a sales person for its business-to-business e-commerce service in 2005.
In his six years at Alibaba, Wei rose to being a sales manager for the northern region of China. Then, he moved to China's largest third-party online payment platform, Alipay, where he quickly gained a reputation as a talented manager despite his age and rose through the ranks to become the company's youngest regional manager.
In 2015, Cheng Wei was named one of Fortune's Global "40 under 40" List of Chinese Business Leaders, and topped the China "40 under 40" together with Jean Liu.
In 2017 He was selected as one of the 50 Most Influential Business Leaders by Fortune China. 2018, He was named one of 50 Most influential business leaders in China by Forbes China.
Wei is among those advocating that China needs to focus intensely on development of artificial intelligence. Speaking to government officials and administrators in May, he said the first half of the internet age—in which companies raced to connect computing machines with people—has finished. "The second half is about artificial intelligence," he said. DiDi has established a big data research center to focus on AI technologies including machine learning and computer vision, which will optimize its dispatch system and route planning. A few hundred scientists work on the deep-learning technologies. At this stage, Wei said that the company is investing a lot of resources in research and is keen to recruit and retain top talent to build its self-driving cars and to make itself become one of the top technology companies in the world.
In September 2015, Wei was selected as a Co-Chair of the Summer Davos in Asia: Annual Meeting of the New Champions 2015 and delivered a speech at the forum. At the conference, he discussed how the sharing economy enables traffic resources to be allocated and used in the most effective and efficient way.
In the same month, Wei visited the U.S. alongside China's leader Xi Jinping and attended the 8th U.S.-China Internet Industry Forum (USCIIF) hosted by the Internet Society of China and Microsoft. He was the youngest participant in the Forum. Other companies attending the Forum included e.g. Microsoft, Apple, and Facebook on the U.S. side and Alibaba, Tencent, and Baidu from China.
---
Didi blames 'ignorance and pride' for carpool murder
Chinese ride-sharing giant Didi Chuxing has issued a public apology, blaming "ignorance and pride" for safety lapses that led to the rape and murder of a female passenger.
Executives said they would stop using growth to measure the firm's success and prioritise safety instead.
The move follows Didi's decision to suspend its carpool service, Hitch, amid outrage over the incident.
It was the second killing of a Hitch passenger in three months.
On Tuesday, the company apologised to the family of the victim and said the incident had prompted a reckoning within the firm.
"Our ignorance and pride led to irreversible pain and loss," Didi founder Cheng Wei and President Jean Liu said in an emailed statement.
"We see clearly this is because our vanity overtook our original belief. We raced non-stop, riding on the force of breathless expansion and capital, through these few years; but this has no meaning in such a tragic loss of life."
On Saturday, a 27-year-old driver was arrested and later confessed to the murder of the 20-year-old passenger.
While the driver did not have a criminal record, a previous passenger had filed a complaint against him, according to Didi.
'Try our utmost'
Since the incident, China's transport ministry has pressed Didi for changes, such as better driver vetting and education.
Local regulators have also reportedly met with the company.
On Tuesday, Didi said it would create a system for passengers to call police and improve safety features, such as a function that allows riders to share itineraries.
It also said it would re-evaluate the business model for Hitch.
"We might not be able to eradicate 100% the ill deeds carried out by criminals who might seek to abuse this platform, but we will try our upmost to protect passengers and drivers and continue to drive down crime rate in this industry," the statement said.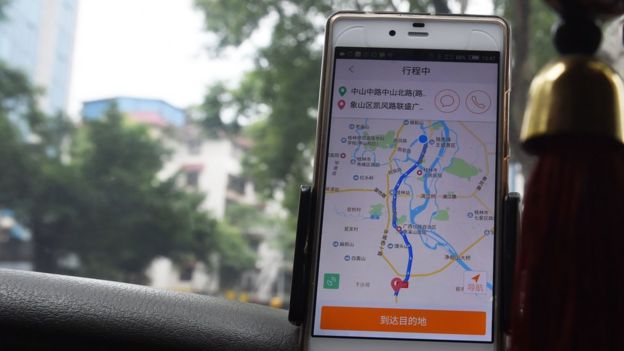 Founded in 2012, Didi had grown to handle about 25 million rides a day by the start of 2018, when it claimed more than 450 million users and about 21 million drivers.
The firm, which is backed by major investors such as Softbank, has also been pushing to enter new markets, including Mexico and Japan.
It is not the only ride-hailing service to face a backlash over its safety controls.
Uber, which is also backed by Softbank and has a stake in Didi's China business, has grappled with similar issues in the US and India, prompting calls for tighter regulation.
In the UK, Uber promised to report crimes directly to police in an effort to improve safety.
BBC