Deng Yaping (邓亚萍; born February 6, 1973 in Zhengzhou, Henan) is a Chinese table tennis player, who won eighteen world championships including four Olympic championships between 1989 and 1997. She is regarded as one of the greatest players in the history of the sport.
Deng began playing table tennis at age of five, and four years later she won the provincial junior championship. She was age 13 when she won her first national championship.
Despite her success, she was initially denied a spot on the national team because she was so short (she stood only 1.5 metres [4 feet 11 inches] tall). She was finally included on the national team in 1988. She teamed with Qiao Hong to win her first world championship title in the women's doubles competition in 1989. Two years later in 1991, Deng won her first singles world championship.
At the 1992 Olympics in Barcelona, Spain, she won a gold medal in both the singles and doubles competitions and repeated the feat at the 1996 Olympics in Atlanta, USA. She also earned singles and doubles titles at the 1995 and 1997 world championships.
When she retired at the age of 24, she had won more titles than any other player in this sport, including four Olympic gold medals, and had been World Champion 18 times. From 1990 to 1997, she retained the title of world No. 1 ranked female table tennis player for 8 years. She was voted Chinese female athlete of the century, and joined the International Table Tennis Federation Hall of Fame in 2003.
From Fame to Shame
After retiring at the end of the 1997 season, Deng served on the International Olympic Committee's ethics and athletes commissions. She is also a member of the elite Laureus World Sports Academy, and a member of the Chinese People's Political Consultative Conference.
She gained a bachelor's degree from Tsinghua University, a master's degree from the University of Nottingham, and as of March 2006, was continuing to study for a PhD. in Land Economy at the University of Cambridge (Jesus College). Her research work coincides with her professional focus on the marketing, management and development of the 2008 Beijing Olympics as a member of the Beijing Organizing Committee.
In 2007, she married Lin Zhigang, also a table tennis player, and later gave birth to a baby boy.
In 2008, she received a PhD degree from Cambridge. Her thesis title is: "The impact of the Olympic Games on Chinese development: A multi-disciplinary analysis".
In 2010, she attracted controversy due to comments she made. A student asked her, "how can one get promoted quickly?" She answered, "when your personal value overlaps with the interests of the state, your value will be enlarged without limit." Later, she also said, "In the 62 years since the establishment of the People's Republic of China, the People's Daily have not published a single piece of fake news."
---
I am Chinese, insists table tennis queen Deng Yaping as she posts photos of her and France-born son's passports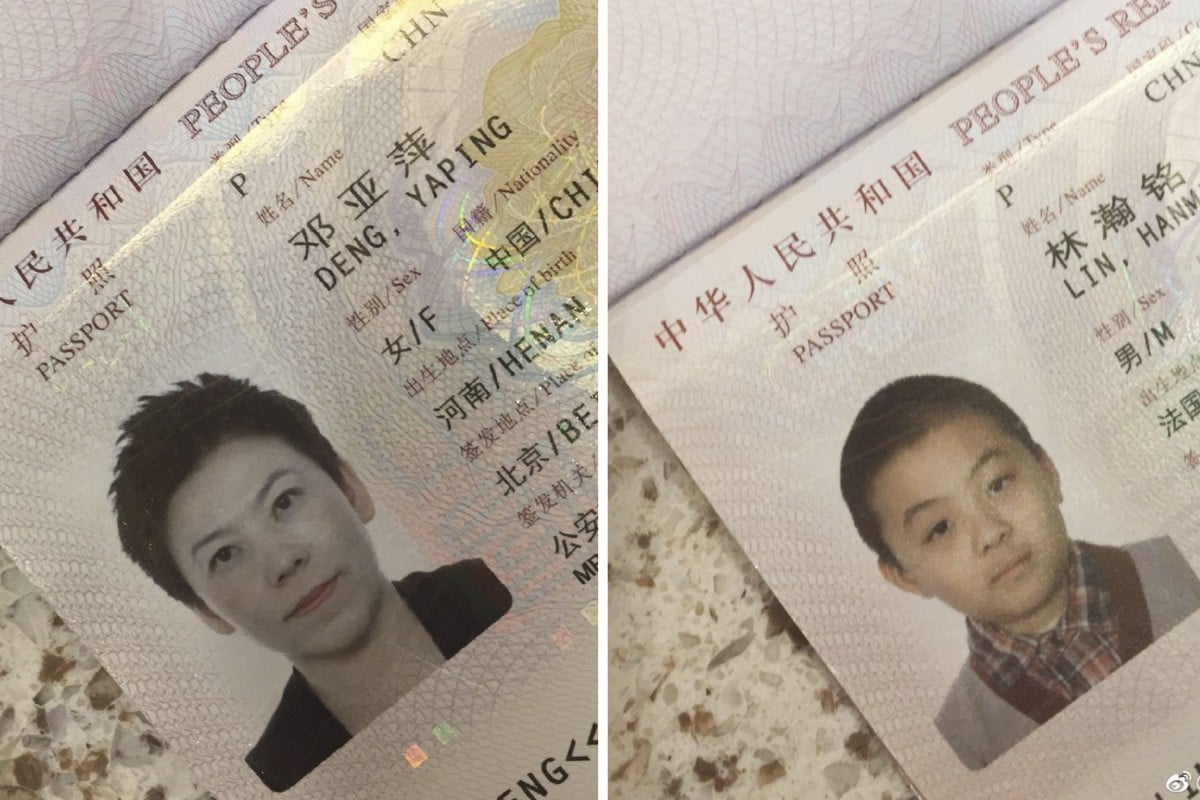 Deng Yaping posted photos of her and her son's passports on Sunday, saying both of them had always been Chinese nationals. Photo: Weibo
The former table tennis champion Deng Yaping has posted photographs of her and her son's Chinese passports on social media to try to put a stop to years of questions about their nationality.
In a post on Sunday on Weibo, China's equivalent of Twitter, Deng said she wanted to dispel a long-standing rumour about their status.
"I hereby declare that I and my son Lin Haoming have always been Chinese nationals. Even though he was born in France, he got a Chinese passport as soon as he was born," she wrote. "We are proud as Chinese and proud to be fighting for our country."
She included photos of her passport and that of her son, along with their French visas, which show that they are not French citizens.
Regarded as one of the greatest table tennis players, Deng won six world championship titles and four Olympic gold medals between 1989 and 1997, before retiring from the sport and completing a doctorate at Cambridge.
She and her husband Lin Zhigang – also a table tennis player – had their son in 2006, in Paris – prompting questions about the family.
The boy's birthplace, impressive pedigree and growing reputation in junior table tennis have led some to argue that he should not be lost to a foreign country, despite him now living in China.
After Sunday's post, Deng was shown more understanding.
"Whether she is a Chinese national has nothing to do with you, and it's her own freedom, don't morally kidnap her," one person wrote under Deng's post.
"It doesn't matter what nationality [Deng] is, [she] has won honour and glory for the country and is an example to the Chinese," another wrote. "Those who are judging her have never done such things, and stand pointing fingers."
It has become routine for the Chinese public to criticise celebrities for their connections to other nations, with television personalities, actors and athletes all coming under fire.
He Zhili, a table tennis teammate of Deng's, later became known by her married Japanese name of Chire Koyama and represented Japan, playing against Deng and defeating her in 1994. She was called a traitor by many members of the Chinese public.
south China morning post